Sports
At DPS International, Gurgaon the Physical Education and Sports Programme is about passion, grit, improvement and perfection. Passion to be one with the cause, grit to work harder each day, improvement to acknowledge your shortcomings & work on them and perfection to achieve excellence. DPS International acknowledges Physical Education and Sports Programme as an integral part of the growth and development of each student. It focuses on participation, competition and achieving excellence in various sports and games, thus enabling the coaches and trainers to channel latent energies and talents of our students. We offer gradual individualised growth and development plan for each student under the expert supervision of our Physical Education instructors, coaches and trainers. Initiating the mind with Yoga and harnessing energy by physical training exercises ensure that the students not only are fit but are also mentally strong. With innumerable choices to make from an array of indoor games like Table Tennis, Carrom, Chess, Billiards, Squash, Swimming, Badminton, Skating, to outdoors sports like Athletics, Football, Cricket, Basketball, Lawn Tennis along with Martial Arts, Gymnastics,Aerobics and Gymnasium fitness, DPS International enables a child to explore every dimension of Physical Education. Experiencing leadership, teamwork, competition, patience, appreciation and respect is the very essence of our Physical Education and Sports Programme. At DPS International we believe in the fact that - 'It's not about being better than someone else; it's about being better than you were the day before.'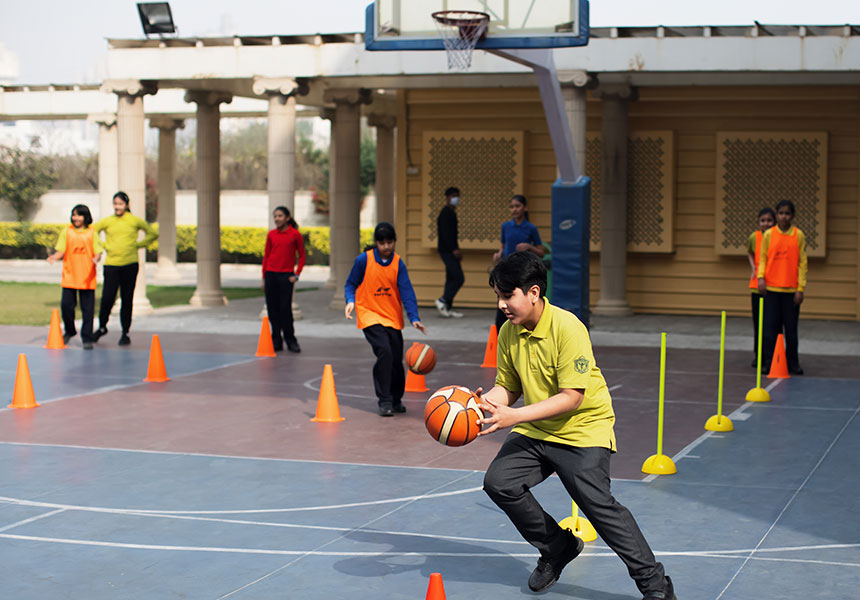 Devyani Jaipuria Tennis Academy ( in association with Mr. Zeeshan Ali)
Never say never because limits, like fears, are often just an illusion." DPSI boasts of its tie up with Devyani Jaipuria Tennis Academy. DJTA ( as it is popularly known) is the work of the dreams of Ms Devyani Jaipuria, to celebrate her passion for tennis and provide world class facilities and expert training to young kids,
At DJTA, we aim to empower thousands of boys and girls with the skills to play tennis at district, state, national as well as international levels.
Owing to a strong on ground tennis curriculum combined with high class coaches, DJTA is backed by Mr. Zeeshan Ali ( India's National and Davis Cup Coach).
At the academy we strongly believe that learning should also involve opportunities. Our coaches will ensure to inculcate decision making along with providing the best possible opportunities to fulfill your tennis aspirations.