Experiential Learning Space
The sprawling 5-acre campus is designed to promote a safe and secure environment for students and staff members. The campus has a Primary and Secondary wing with large natural grass outdoor play areas, well lit basketball, badminton and squash indoor courts and a swimming pool. The surveillance controlled perimeter, classrooms, corridors and school buses together make DPSI a child friendly space. Lifts and ramps ensure ease of movement within the buildings.
The learning spaces are flexible, inviting, and engaging. The early years' classrooms include large collaborative learning spaces that promote individual and collaborative work across learning and activity stations. The emphasis is on hands-on multisensory experiences, self-management and social learning.
Classrooms across other grades are designed to facilitate discussions and group work amongst students giving them the agency to rearrange their learning spaces.All spaces of the school building offer learning opportunities, the corridors are replete with student artwork, game stations, friendship benches and peace corners for conflict resolution. Technology plays a big role in our futuristic classes. Smart boards and interactive panels allow for innovation in teaching styles and allow the world to be brought into the classroom.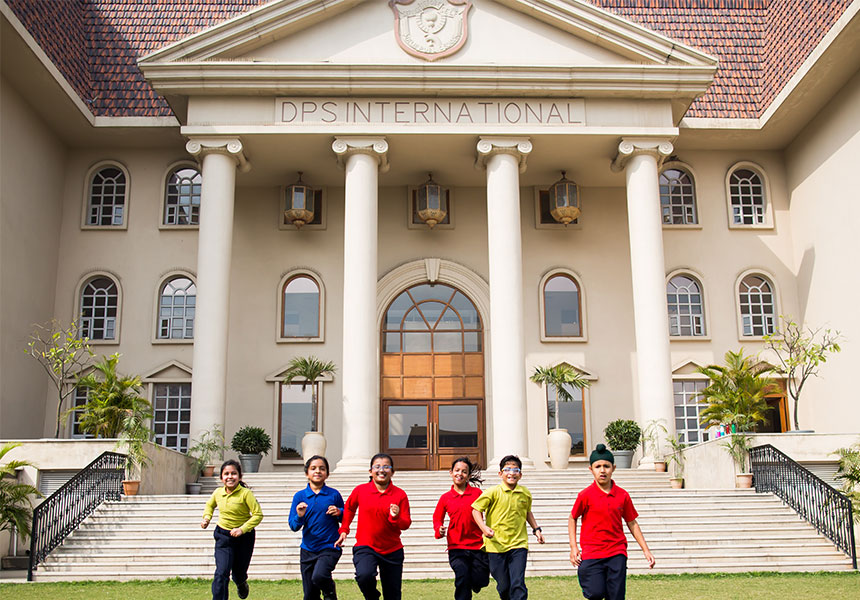 The well-lit and spacious learning spaces equipped with state-of-the-art technology serve as an essential complement to the classroom design. To ensure the health and well being of our students, the classes are equipped with air purifiers. As sensitive environment conscious citizens, the school has a sewage treatment plant too.
Sustainability at DPSI
We are committed to doing our part for the planet and have invested in many changes, big and small, to reduce our environmental footprint. We recognise it is an ongoing effort, with continual room for improvement. The curriculum throughout school includes topics related to sustainability and climate change, and it is also a regular theme for the students learning showcase exhibitions.
In keeping with the school motto of 'Service Before Self', Service as Action is integrated in the curriculum and is an essential part of student life at DPS International. It is a student's personal commitment to service as they act to make a positive difference to the lives of others and the environment. The Service as Action programme offers opportunities for our students to become active and caring members of local, national and global communities.
Facilities at a glance
The purpose-built campus for Primary and Secondary school students features a number of facilities designed to meet their specific requirements
Indoor and Outdoor Learning Spaces
2 Libraries
Design and Technology Lab
3 ICT Labs
Science Labs (Biology, Physics, Chemistry)
IB Diploma Lounge
Maker Space
Drama Room
2 Dance Studios
3 Music Studios
3 Art Studios
Auditorium
Multipurpose Exam Hall
Early Years Play Area
Swimming Pool
Indoor Air-conditioned Sports Courts (Basketball, Volleyball, Squash, Table Tennis)
Soccer Field
3 Dining Halls
Basement Parking